---
Article, The Guardian Newspaper 
by Amelia Hill
19th November, 2012
View original Article on The Guardian Newspaper website
.
---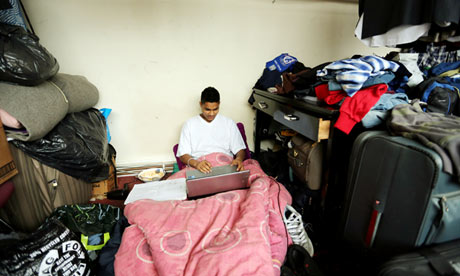 One man tries to get on with his life, surrounded by clothes and luggage, at the Highway of Holiness church giving refuge to the homeless in Tottenham, north London.
Photograph: Graeme Robertson for the Guardian
The Highway of Holiness community church – a few dilapidated rooms in a windswept industrial park in
Tottenham
, north
London
– used to be a lifeline for local youth. More than eight out of 10 children across Tottenham live in
poverty
, and this ward is one of the most deprived in England. Yet until recently, the charity of the church's largely immigrant, low-income congregation enabled the pastor, Alex Gyasi, to run an impressive schedule of after-school classes, a youth club, a cooking club and an in-house digital TV channel used to inspire young people to debate current affairs. Since the government's austerity drive began to bite, however, and word spread that Gyasi gives the destitute a space to sleep and a hot meal, the church has been deluged with requests it can't refuse. Two years ago there were two homeless men sleeping on the thinly carpeted floor of the church. Recently, there were 50. When winter hits harder and temperatures drop, Gyasi fears the church will have 90 men crammed into every inch of spare space and he will have to turn people away. The government's deficit reduction plan, it said, would be weighted so "those with the broadest shoulders should bear the greatest load". It is too early to know what the exact impact of these cuts will be on those whom politicians promised to protect because, deep as they have already been, they are only just beginning. By April 2013, the end of this financial year, there will have been
£8.9bn in cuts to welfare spending
. Last week,
it was announced that further substantial welfare cuts will be made in the autumn statement: an extra £6bn in 2015-16, then £10bn in 2016-17
. There are, however, two swaths of cuts that have already taken effect, affecting local authority spending and housing benefit. For the last 18 months, the New Economics Foundation (NEF) has been tracking how those cuts have hit the frontline in some of the most deprived wards in England: Aston and Ladywood in Birmingham, and five wards in the east of Haringey in north London. Published on Monday, the
NEF's report, called Everyday Insecurity: Life at the End of the Welfare State
, emphatically rejects the suggestion that the most vulnerable and those with genuine needs are being protected. The report says the services that are being lost are cheaper ones that keep people away from far more expensive acute services, such as A&E,
homelessness
support and temporary housing. These are real cuts, the report insists, and they will be paid for in human, social and economic costs. This is clear from the men Gyasi welcomes into his church. "We have men referred to us by almost every major hospital and organisation that deals with the homeless," he said, leafing through a thick file of letters from hospitals, including University College London Hospitals, East London and City mental health trust, Guy's and St Thomas' and the Royal Free, as well as the British Red Cross, the Refugee Council and Tottenham MP, David Lammy. "These rooms were supposed to be for our children and for our congregation. Now all that space is given over to the homeless," he sighed. "To help the dispossessed, we have to deprive our own children. But we have no choice: we're the last resort for the poor and marginalised. These are the people who fell through the net and kept falling." The NEF report argues that the true impact of the cuts is the erosion of day-to-day economic security for everyone. "The whole notion of a social safety net is being unravelled," said Joe Penny, co-author of the report. "The safety net has so many holes in it now that anyone, no matter how secure they might think they are, can slip through."
According to the Department for Work and Pensions (DWP), the introduction of the benefit cap will see at least 11,390 households in the UK lose £150 a week
–
in Haringey this will make 6,900 homes unaffordable to families on housing benefits, a report by the Chartered Institute of Housing
has said. The safety net, according to Penny, was not tightly knit in the first place, but the
voluntary sector
filled the gaps. "The government is now eroding the voluntary sector [and] at the same time tearing massive holes in what local government can provide.
Benefits
are being reduced while council tax, rent and fuel bills are soaring. "To compound the growing income insecurity many people face, some of the most practical and vital public services – such as legal advice, crisis centres and care homes – are being cut." Society is, said Penny, getting to the point where anyone can have a crisis that pushes them down a spiral so precipitous that it is almost impossible to recover. When the Welfare Reform Act comes into force next year, the swingeing cuts to working tax credits will see
at least 200,000 couples lose up to £74.34 a week
, according to a Child Poverty Action Group calculation based on 2012 rates.
The £26,000-a-year cap to housing benefit will affect at least 56,000 households
, the DWP has calculated, and they will
mainly be large families, lone parents and disabled people
.
The average affected household, says the DWP, will lose £83 a week from its housing benefit alone
.
Those who can no longer afford to live in the area will have to move away, potentially giving up jobs, taking children out of schools and exchanging local support networks of family and friends for communities of strangers
. Those affected will increasingly find they are no longer able to turn to their local authorities: the average 27% reduction in spending that local governments have had to make saw
24% of disabled adults having their support reduced in 2011.
An estimated 800,000 elderly people in need of care now go without any formal support. The forthcoming 20% reduction in council tax benefits for everyone except pensioners will affect 36,000 people in Haringey alone, the NEF report has found. A DWP spokesperson said: "Our reforms will introduce fairness to the welfare system by asking people on benefits to make the same choices about where to live that working families do. "Housing benefit will meet rents of up to £21,000 a year and apart from the most expensive areas in London, around a third of properties will still be available to rent. "We are committed to protecting the most vulnerable and councils have an additional discretionary fund of £190m to help families in difficult situations." But Penny says a "race to the bottom" is the new norm. "This is the thin edge of the wedge," he said. "Guardian readers and those in the higher income brackets are being naive if they think this will not hit them. If services and infrastructure are removed, everyone will notice. Anything that local government don't legally have to provide, they are going to have to get rid of. "Even if Labour get in at the next election, they will not be able to afford to heal the cuts." But summaries and statistics cannot convey the cuts' effects on individuals. The storm clouds can been seen at Citizens Advice bureaux. Sharon Grant, chair of Haringey's CAB, said: "We're like the canary down the mine. We're the first people who pick up what's going on out there and what we're seeing at the moment is a boiling pot whose lid is coming off. We're trying to turn down the heat so it just simmers – but someone keeps stoking the fire." Demand for the borough's CAB services has risen threefold in two years. Residents who want to ensure they are among the limited number of applicants the centre can see each day must start queuing hours before the doors open. Recently, 87-year-old Aston Blackman woke long before it was light to get to the Turnpike Lane office for 6am. At 6.10am, he was joined by 66-year-old Younes Khalaifa. At 6.15, 31-year-old Sergio Araujo arrived. By 7am, there were 11 people in the queue. By 9.30am, there were 49. More turned up every few minutes after that but didn't bother waiting: they knew that because of the service's increasingly limited facilities, only around 25 people can see an adviser each day. With still half an hour to go before the doors opened, Blackman was shivering and wet at the head of the queue. Pointing to a plank of wood overhanging a dustbin, he said: "I sheltered there. But it's been very cold and dark. The sun has come up now but I'm still trembling." Blackman had received a £1,218.63 council tax demand for an original debt of £154,84 accrued, the council claimed, in 1997 – when he was 71 years old, despite already having been on a pension and entitled to full council tax relief for six years. Despite the six-year rule, which means the council is not allowed to recover debt that it has not attempted to claim for that period of time, the letter threatened legal action unless the full sum was paid in seven days. Blackman was bewildered and scared. "As far as I'm aware, I've paid my council tax on time for my entire life," he said, wringing his hands. "I can't afford to pay this. I live on a pension of £50 a week. I don't have any savings. What will happen to me?" Blackman's problem will be ironed out, his CAB adviser said reassuringly, but he was right to risk a chill to be at the front of the queue. Markos Chrysostomou, chief executive of Haringey's CAB, admitted the bureau was struggling to cope with incredible demand: "We're sitting here, facing an ever-increasing tide of demand with ever-diminishing resources." Funding for mental health work has stopped, and specialist legal aid for welfare rights will disappear from CABs, other voluntary agencies including Law Centres and solicitors when the Legal Services Commission withdraws its funding next April. Although Haringey CAB's team of paid and volunteer advisers will continue to offer welfare rights advice – albeit under growing pressure of demand – there will not be a single legal aid welfare benefit specialist working in Haringey. Hackney and Waltham Forest CABs, in east and north-east London respectively, have had a 30% cut in funding, and residents of those boroughs now come to Haringey for help. "People on the margins of crime and drugs will go back into crime," Chrysostomou predicted. Chrysostomou struggled to identify a group that would be unaffected by the cuts. "The reductions in council tax benefits will hit families who are working and on low earnings," he said. "Single people, disabled people and large families will be evicted when the new housing benefit cap comes in." Chrysostomou has lived in Haringey for many years. He is a member of the civic council and helps formulate the policies of neighbourhood child poverty action groups. He says he has never seen anything like the suffering already caused by the cuts. "This need for subsistence charity like food banks is like going back to third world countries," he said. Three miles away from the CAB, Gyasi said he was receiving referrals from across London. "There is so little support from the state, local government and voluntary organisations that everyone is vulnerable now," he said. "Men end up here for reasons that simply didn't exist a few years ago. People struggle to survive on subsistence-level benefits, that are cut ever further, and yet have to pay more and more for life's essentials. Or they lose their job and there aren't any others to be had. Or their relationship breaks down and they can't afford to run two homes and pay for their children's food. "We even have people here who have siblings living locally. But because those siblings are close to the tipping point too, they can't care for their own kin without pushing themselves over the edge. "If the government want the so-called 'big society' to step up and really fill the gap that has been created by the withdrawal of statutory provision, then we need some help – our coffers are emptying. "We do the best that we can, but very soon, we won't have the resources to cope. There are more cuts on their way – and winter is coming."
• This article was amended on 23 November 2012 because the original said Haringey can no longer offer specialist welfare benefit advice, and that from next April there would not be a single CAB welfare benefit specialist working in Haringey. To clarify: this was a reference to legal-aid-funded welfare benefit specialists, funding for which is being withdrawn; the CAB has asked us to point out that its advisers will continue to give quality-assured welfare rights advice. A reference to funding for mental health work was also clarified. Further, the quote beginning "We're like the canary down the mine…" was originally misattributed to Markos Chrysostomou.